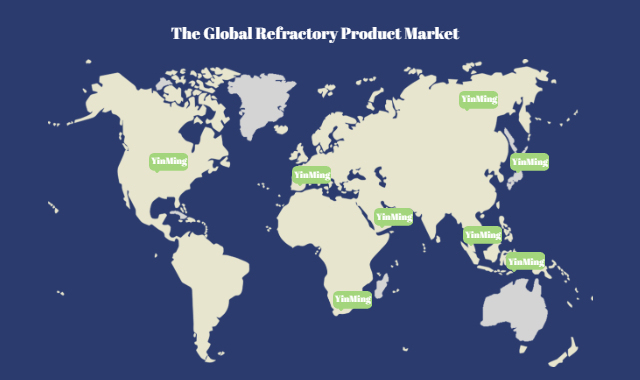 The Global Refractory Product Market
Sunday, 26 June 2022

0

457

0
The Global Refractory Product Market
Purchasing decisions for refractory products should be based on total cost of ownership (TCO). This will not only improve the overall life of the products but also reduce overall consumption. Some refractory products are more volatile than others, and trade wars or Covid-19 outbreaks can affect availability and pricing. However, these events are usually short-term and do not translate into a significant increase in price in the long term. To minimize the impact of unforeseen circumstances, buyers should develop a secondary supplier list.
In the United States, refractory products are used in a variety of industries. Demand will continue to increase for refractories, as improved steel production methods and quality will support higher demand. However, the market is expected to grow at a much slower pace, averaging just 3% per year. Individual minerals will experience market-specific growth, such as the phase-out of chrome and the introduction of monolithic refractories.
Refractory material market is segmented by chemical composition, form, and chemistry. It is also segmented by region, including North America, Europe, Asia-Pacific, and the Middle East. It is further segmented by end-use. Further, the report provides a breakdown of the global refractory material market by region. Achieving this goal will enable suppliers to provide customized refractory products and enhance their competitive advantage.
As far as the price is concerned, bricks and shapes will dominate, accounting for about 56 percent of the market by value in 2014. The increasing demand for precast refractory products is expected to support this growth. In addition, bricks and shapes offer performance advantages and reduced heat-up times. Monolithics, on the other hand, will be the fastest-growing product form, with a rising demand for relinings and other benefits.
Refractory products are usually made of various types of materials, but there are some common components that are essential for successful production. The most important characteristic of these materials is their ability to resist heat and chemicals, and their durability under high temperatures. Refractory materials must also be nonmetallic, as metallic refractories cannot withstand high temperatures. Depending on the nature of the process, synthetic materials may be added to the mixture. The refractory material's chemical interaction must be taken into account, as failure can occur because of the breakdown of a particular substance.
In the process of manufacturing refractory products, lightweight aggregates may be added. These materials may not be available in all chemical classifications. They are usually processed using known techniques and equipment. Because of their high temperatures, they change their dimensions. The process is usually performed at a temperature higher than their ultimate use. Once processed, the refractory material is cut to the required dimensions for the finished product. The final refractory product is often shaped to look like a brick or a castable, although the form varies depending on the application.
Refractory materials may be manufactured from polymerized solid particles. These solid particles have a cellular structure and individual generally spherical shells. In addition, refractory materials can be prepared with combinations of these materials. For example, a high alumina-based mixture may be used to make individual shells. Further, finely divided refractory materials may be made from 97% Al2 O3 or 63% ZrO2 or any other type of refractory material. These examples are not meant to be exhaustive or to limit the scope of the invention.
Tags:refractory bricks